The "Japanese room" at Paradisoterrestre gallery with artworks by Tatsunori Kano 
When:

Where:

Paradisoterrestre Gallery
Via De' Musei, 4
Bologna (IT)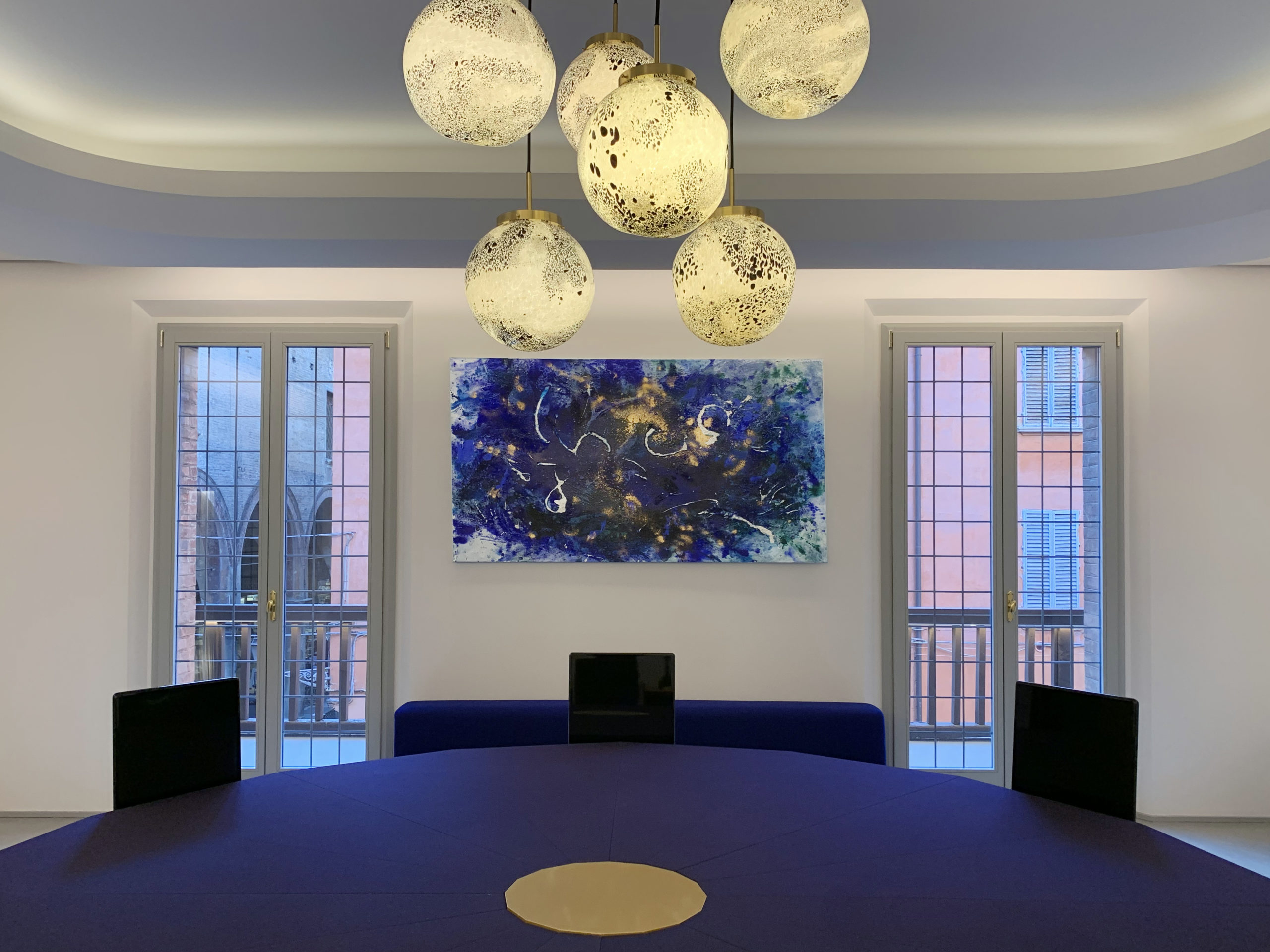 A hybrid space between a gallery and a showroom, Paradisoterrestre gallery is far from being the classic "white cube". We invite you to discover our latest set-up where you can find the "Japanese room". In our biggest and brightest room, filled with light coming from the beautiful terrace, artworks by Tatsunori Kano – Japanese artist based in Bologna – dialogue with design pieces from our catalogue and Historical Design Selection.
Realized between 2020 and 2021, Kano's materic paintings – acrylic on canvas – depict universal symbols such as the circle, the bow and the chessboard. Two of them hang above pieces from Marcel collection, designed by Japanese architect Kazuhide Takahama, who also lived in Bologna and is considered by the artist as one of his masters, together with Dino Gavina.
In Kano's own words:
"I fell so lucky to have met these two figures, two creative men, very different in their characters, friends of each other; they have affectionately included me. It was with their help that I discovered my own originality and I started to shape my creative life. In different moments, I saw how they would react with their aesthetic points of view and their essential tastes. Dino Gavina had a straightforward taste and loved genuine food. His linear gaze gathered essentiality. Architect Kazuhide Takahama concentrated his refined taste in the synthesis of lines. They both hated banality. I consider them as my masters. One of them spoke to me, at times scolding me, and he used to provoke me: "You mustn't be too serious!" But it wasn't an invitation to play. The other master spoke, but not exactly with words, I had to read between the lines, he used to ask, without speaking. What is beauty? For my Japanese eye he was a model of creative life lived abroad. I have been trained for about twenty-five years in Bologna by two unquestionably strict and exceptional masters." 
– T.K. February 24, 2022
Kano's third artwork hangs alone on a clean wall, but if you look carefully, you can see how it resonates with the architecture of the building and beyond.
Central piece in our Japanese room is a large and rare Bisanzio table by Hiroyuki Toyoda. Coming from the meeting room of a bolognese firm, the table is surrounded by a set of 6 Kazuki chairs by Kazuhide Takahama. The room set-up is completed by two sideboards by Afra and Tobia Scarpa, unique pieces specifically designed for an important apartment in a town in Lombardy in 1960s (published on Ottagono – October 1967) and Kaidan cabinet, also designed by Japanese architect Kazuhide Takahama for Dino Gavina.
Tatsunori Kano
The artistic production of Tatsunori Kano is in harmony with an aesthetic intense strength, which ranges over on large canvases, shaped papers, ceramics, sculpture of ambient inspiration and in the performances. Tatsunori Kano was born in Hiroshima, Japan, in 1954 and graduated in painting at Nihon University, Tokyo, Japan in 1977. In the early 1980s Kano travelled to Europe and he currently lives in Bologna, Italy. His works are present in public collections: Università degli Studi di Bologna; Oriental Art section Museo di Palazzo Poggi – Sistema Museale di Ateneo Alma Mater Studiorum Università di Bologna; The University of Tokyo; The University of Welfare, Hiroshima; Museo del Vino, Torgiano; Museo della Ceramica, Castelli; Gioyo Bank, Japan; Kamome Shinyou Bank, Japan; Culture Center, Comune di Mihara; Museo del territorio, Faenza; University of State, Washington.