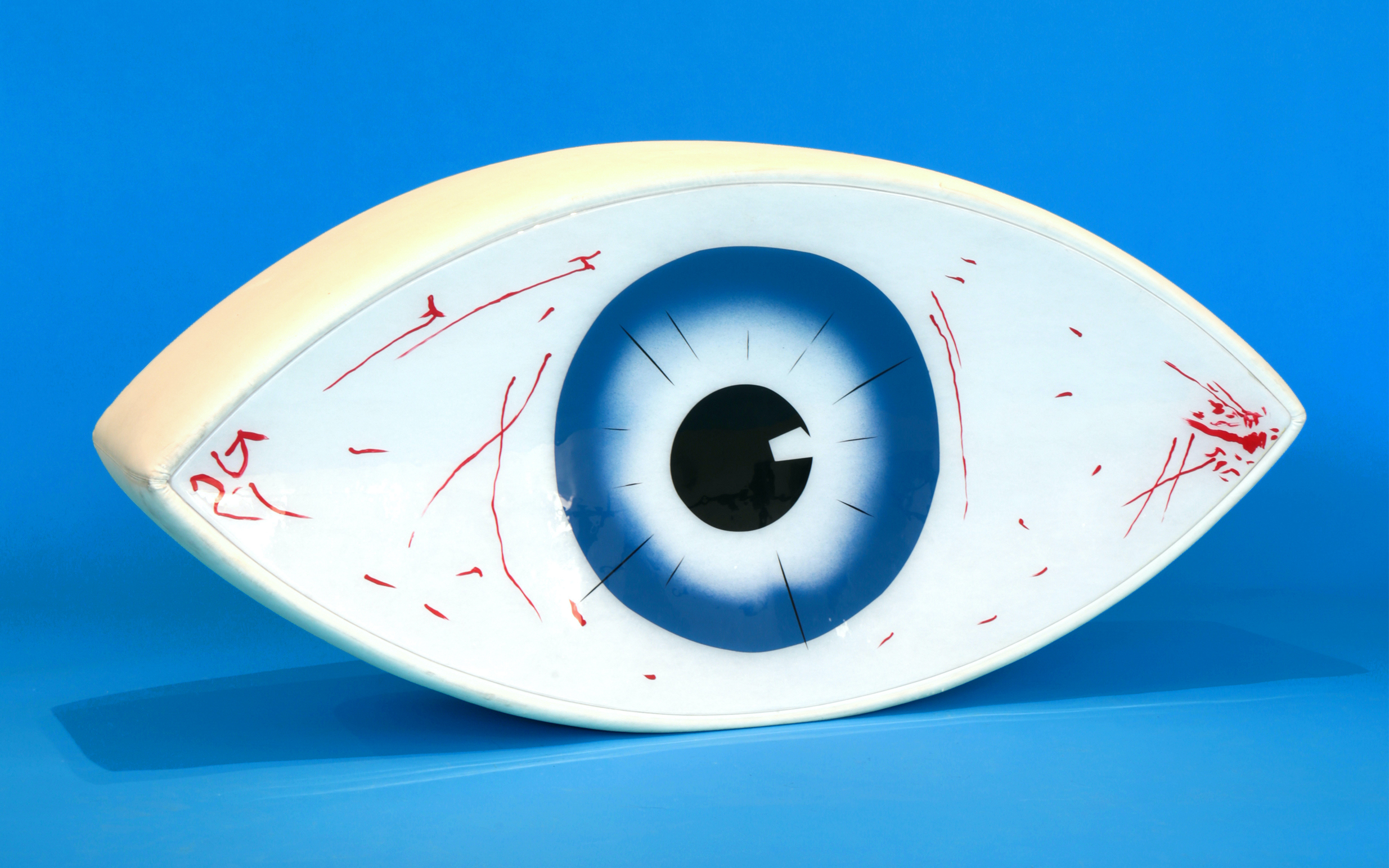 Paradisoterrestre presents the re-edition of an iconic piece in design history: Le Témoin  designed by Man Ray for Dino Gavina in 1971.
Part of the historic and revolutionary operation Ultramobile, conceived by Gavina in 1971 with the aim of surprisingly adapting the surrealist object to everyday use, Le Témoin by Man Ray is an eye that watches you insistently, an indiscreet presence; you turn it and it turns into an unexpected seat. 
The great artist Man Ray and the Bolognese entrepreneur Dino Gavina were linked by an extraordinary friendship and collaboration: the idea for Le Témoin was born from a gift exchanged between the two – an oval-shaped cookie box that Gavina gave to Man Ray and on which the artist painted a big eye before giving it back to his friend. 
A witness to our habits within the domestic landscape, the eye by Man Ray is a "furniture of poetry": at the same time a practical response to functional needs and a "totem evoking wonder, a presence that pulsates and breathes in your home, a vital and sardonic aggression, poetry frozen in a flash of joy" (from the text of the first leaflet "Ultramobile", 1971). 
Le Témoin is presented online on the occasion of the launch of the new website paradisoterrestre.it
Le Témoin
Designer: Man Ray 
Paradisoterrestre Edition 2020 
First production: Simon International – Ultramobile collection, 1971 
Materials: wood structure, synthetic leather upholstery, methacrylate partly silk-screened and partly hand painted 
Dimensions: cm W 154 D 40 H 70 | in W 60,5 D 16 H 27,5 
Le Témoin, © Man Ray Trust, by SIAE 2020
The large eye, the witness, insistently observes you in your home, when your conscience cannot withstand it, then you turn it over and it immediately turns into a sofa
Man Ray